CWDM OTDR Module Introduction
This JDSU CWDM OTDR module, support to work with JDSU MTS-6000A and JDSU MTS-800 platform. This CWDM OTDR EVO family able to characterize CWDM fiber network by connecting to any location of the fiber networking, during CWDM network commissioning, network upgrades, and troubleshooting.
The optical performance of the CWDM module, combined with the T-BERD/MTS platform's suite of testing features, ensures that testing jobs are performed right the first time to successfully deploy and maintain metro- and mobile-backhaul networks.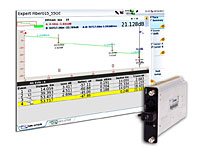 The main testing features as follow:
• Auto multiple test configuration
• PASS and FAIL alerting for summary results table
• Optional SLM for Linear LTR (linear Trace Interpretation)
• Onboard fast report generation
Key Features
• Optimized high dynamic range to test through OADM, MUX and DEMUX
• Central-office/headend testing with sequenced short acquisition
• Integrated CW (continuous wavelengths) light source with modulation capability
• Instantaneous traffic detection
• Central wavelength control for accurate DEMUX/MUX loss measurement
CWDM OTDR Applications
• Test any CWDM network configuration
• Qualify fiber links during CWDM installation
• Wavelength provisioning—test new wavelength routes without disrupting traffic on active channels
• In-service troubleshooting—pinpoint the nature of a fault and its exact location
General
Weight approx. 500 g (1.1 lb)
Dimensions (W x H x D) 213 x 124 x 32 mm (8.38 x 4.88 x 1.26 in)
Laser safety class (21 CFR) Class 1
Distance units Kilometer, meter, feet, and miles
Group index range 1.30000 to 1.70000 in 0.00001 steps
Number of data points Up to 256,000 data points
Storage Bellcore/Telcordia compatible Version 1.1 and Version 2.0
Distance Measurements
Mode Automatic or dual cursor
Display range From 0.5 to 320 km
Display resolution 1 cm
Cursor resolution From 1 cm
Sampling resolution From 4 cm
Accuracy ±0.75 m ±sampling resolution ±1.10-5 * x distance (excluding group index uncertainties)
Attenuation Measurements
Mode Automatic, manual, 2-point, 5-point, and LSA
Display range 1.25 to 55 dB
Display resolution 0.001 dB
Cursor resolution From 0.001 dB
Linearity ±0.03 dB/dB
Threshold 0.01 to 5.99 dB in 0.01 dB steps
Reflectance/ORL Measurements
Mode Automatic or manual
Reflectance accuracy ±2 dB
Display resolution 0.01 dB
Threshold –11 to –99 dB in 1 dB steps