Currently Data center required everywhere for big data. Many manufacturer all start to demonstrate the tools and procedures by which installation technicians can field-terminate MPO-style fiber connectors.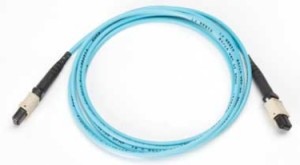 MPO fusion-spliced, field-terminated connectors feature just six components. With a factory prepolished ferrule, their field-termination process eliminates polishing, adhesives and crimping in the field, minimizing the potential for operator error and expensive connector scrap.
Designed to Fiber Optic Connector Intermateability Standard (FOCIS) Type MPO, FOCIS-5, TIA-604-5-C, the connectors perform as an equivalent to the standard factory-terminated MPO/MTP assemblies. Designed to use either ribbon or loose tube cable, they minimize the complexity involved in the termination of a multifiber connection, enabling reliable and repeatable termination in field applications.
Beside MPO Fast Connector, there are SC, LC, ST and FC, which require a fusion splicer and accessories for installation. The MPO Termination Kit provides all necessary accessories for field termination.
Features of the field-installable splice-on connectors include field MPO polarity customization, 3-mm round and optical fiber, and ribbon flat boots in each pack
Applications include connectorization in radio-frequency overlay fiber-to-the-premises (FTTP) networks, cable TV backbone networks, outside plant, multidwelling units FTTP cabling, connector restoration in the field, data center installation and patch cord customization in the field.
Benefits
– Compatible with many fiber geometries…
• SMF, MMF 62.5, MMF 50 (OM2, OM3 & OM4)
– Allows for greater density in fiber network which…
• Minimizes space requirements
• Reduces air-flow restricting congestion and improves cooling efficiency
• Saves Monyes
Challenges
– MPO connector failure may comprise large sections of network
– Pre-terminated challenges
• Longer lead times
• Fewer cable assembly companies equipped for MPO compared to simplex/duplex pre-terminations
• Too long or too short presents cable management challenges or delays due to rework
• Few field repair options…
Challenge solutions – Field repair/termination
– MPO field termination solutions
• No splice storage required
• Maintain polarity
• Mechanical and Fusion Splicing
• Allow for field customization & perfect installs every time
• Fast and reliable repairs Fast and reliable repairs
– MPO Fusion Splice-On Connector
• No index matching gel
• Solutions for 12ct. round cord & 12ct. Ribbon
• Meet same specs as factory assembled MPO