Before you start to maintenance Light Source, read the following words thoroughly:
Maintenance or cleaning of the device when it is connected up or operating may damage the device or injure you. Make sure that the device is switched off and disconnected from all power sources and optical radiation sources
before maintenance or cleaning.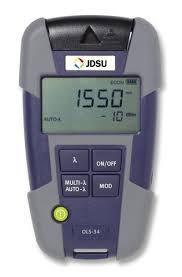 The Test Sets are specially designed for high performance testing of all systems, i.e. broadband, PONs, and Gigabit Ethernet. Battery operation from two AA batteries and the robust, shock-proof design provide long operating time in the field even under tough conditions. AC line operation via a separate AC adapter and the USB interface ensure
ease of use in the laboratory or production environment.
Cleaning the test port
It is a good idea to check that the optical connections are clean and to clean them if necessary before starting
measurements. Even very small dust particles on the end surfaces of the plugs or in the test adapters can adversely affect the accuracy of the measurement.
1. Switch off the device.
⇒ Only BN 2303/01/11: Remove the test adapter from the optical connection. The plug end surface is now accessible.
⇒ Only BN 2303/01/11: Wipe off the plug end surface using a cotton bud soaked in isopropanol. This cleaning method is very effective and leaves no residues.
2. Blow out the test adapter with clean compressed air (available in spray cans, e.g. Anti Dust Spray).
Note: Cover the optical connections with the dust cap whenever they are not in use. This prevents them from getting dirty.
Cleaning the instrument
If the instrument gets dirty through use, you can clean it using a soft cloth moistened with a mild solution of
detergent.
CAUTION
Water and cleaning fluids The device may be damaged or destroyed if water or cleaning fluids get inside it.
! Make sure that water or cleaning fluids do not get inside the instrument.