MTP: SOLUTION DE RACCORDEMENT OPTIQUE TRÈS HAUTE DENSITÉ POUR LE DATA CENTER
La solution est constituée de sous ensemble modulaires :
Des TRUNKS optiques souple équipés du connecteur haute densité MTP qui délivre 12 liaisons optiques sur 16 mm²seulement
Des cassettes haute densité MTP encliquetable jusqu'à24 connecteurs LC monomode ou multi mode OM4.
Des tiroirs optiques 3U grande capacité jusqu' à336 connexions LC
Une solution évolutive , réutilisable , qui supporte les reconfigurations , livrée en « Ready to Use »
Possibilité de déploiement opérationnel en 48 heures pour des installations jusqu'à10.000 connexions optiques
Bâtie pour le support 10GbE ,évolutive 40GbE et 100GbE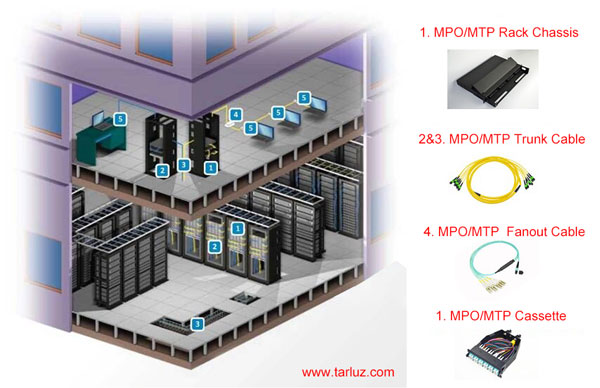 LA SOLUTION MTP Désynchronisation des Tâches
Les tiroirs et les cassettes peuvent être livrés à l'avance et l'on n'a donc pas à attendre le tirage de câble pour installer les armoires et tiroirs , on travaillera donc de manière totalement désynchronisée ou parallèle , les taches de placement en baies , repérage étiquetage raccordement aux équipements vont se faire soit en même temps que le tirage de câble ou même bien avant .L'ordre de montage importe peu et apporte beaucoup de souplesse au déploiement. On a là une véritable solution » prête à fonctionner « , c'est un mécano optique très simple qui ne nécessite pas d'expertise particulière .On obtient ainsi un câblage structuré où l'on maitrise à l'avance les encombrements , les chemins , qui donne le contrôle total des liaisons qui permet le secours immédiat de salles entières.
LES COMPOSANTS DE LA SOLUTION MTP
Les cassettes optiques sont interchangeables , on peut passer d'une connectique optique de type SC en LC en quelques minutes .
On pourra faire évoluer la connectique en changeant la cassette pour intégrer les connectiques optiques plus denses et plus performantes à venir (transmissions parallèles MTP)
L'investissement Trunk et l ' installation seront préservés. Par sa structure , ce câble peut être démonté à tout moment pour être réutilisé à un autre endroit .Il peut être rerouté vers une autre destination pour suivre au mieux la vie des équipements , sa taille est adaptée aux nouveaux concepts Data Centers qui proposent non plus des faux planchers mais des chemins de câble aériens afin de diminuer la consommation électrique du centre par une climatisation plus performante.
Le résultat induit est qu'on ne retrouvera plus dans les faux planchers ces amas de câbles non utilisées qui encombrent et créent la confusion. Le système est conçu pour des rajouts et des modifications sans difficultés il est « tolérant aux erreurs de volumétrie et aux modifications de dernière minute « On ne perd plus de temps à monter sur place les connecteurs optiques , ni à épanouir des câbles préconnectorisés fragiles , figés et encombrants. De par la petite taille des connecteurs MTP et la grande concentration des tiroirs l'espace occupé par l'infrastructure optique est limitée à sa plus simple expression ce qui laisse d'autant plus de place dans les armoires aux différents type de serveurs et commutateurs SAN , LAN & KVM
L'utilisation de fibres optiques très haut débit va tendre à diminuer le nombre d'interfaces optoélectroniques nécessaires ainsi qu'un gain de place qui va permettre à la climatisation 2ème poste consommateur de courant ,d 'avoir une meilleure circulation dans les baies et permettre ainsi un brassage plus efficace et moins couteux des masses d'air générées dans les allées chaudes et les allées froides.
L' INTÉRÊT ÉCONOMIQUE DE LA SOLUTION MTP
La solution conçue en usine dans un environnement industriel , voit son coût baisser et rend la connexion optique semblable à un simple composant standard . Les solutions apportées par ce type de solution flexible sont configurable , modifiable , réutilisable, font chuter les coûts d'exploitation et d 'évolution du réseau où, l'urgence habituellement synonyme de surcoût est totalement maitrisée. L' optique et sa complexité sont maitrisées , l 'utilisateur n'a plus qu'à déployer des « modules » qui s'emboitent les uns aux autres et cela dans n'importe quelle séquence.
LE CONNECTEUR OPTIQUE MTP ET SES ATOUTS
Connecteur défini par la norme IEC 61754-7 Connecteur démontable pour vérification , modification du genre (male à femelle ou vice versa)Connecteur Hermaphrodite Mâle / femelle par piges de centrage métalliques rigides
Ressort Push Pull encastré pour protéger les fibres optiques et la férule optique .
Férule flottante dans son embase pour absorber les chocs et contraintes mécaniques.
Extrémités des broches de couplage male femelle elliptique pour accepter un grand nombre de couplage découplage de connecteurs MTP (Brevet en cours d'homologation )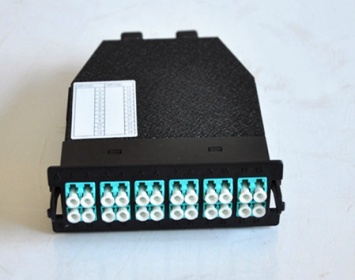 6 pieces of duplex LC at the front end, back side with 1 piece of MPO adapter. The module cassettes with transfer patchcord inside, used to connect with the front adapter and back adapter.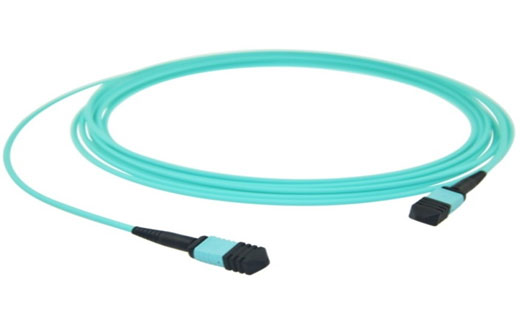 8-core MPO-MPO Cable Assembly, with 4-Tx and 4-Rx channels, comply with QSFP+ SR4*10Gbps network transmission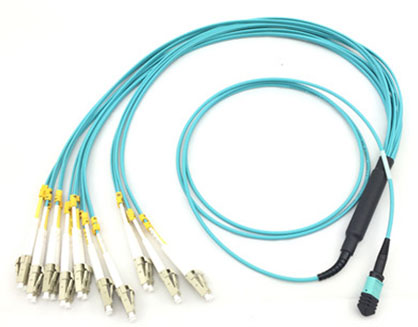 MPO to 20-LC Fan out cable assembly is mainly used for 100G CFP+ SR10 100G Module to 10G SFP+ Module connection, the MPO-LC patch cord with 10-Tx and 10-Rx channels, LC side could adopts single boot Duplex LC or dual boot duplex LC connector, LC side Rx and Tx assembled in pair.